These are the steps in your house buying journey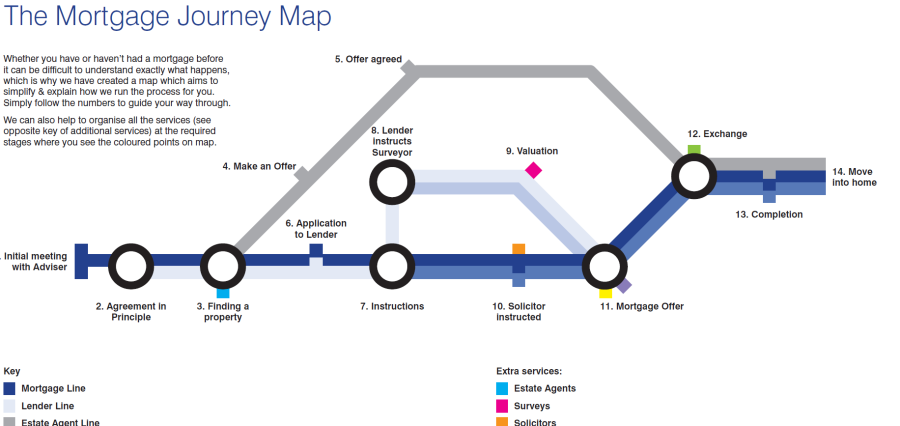 1. Under offer:
Once you have had your offer accepted, you are then 'Under Offer'. At this point you will need the submit your mortgage application, with all the relevant information and documents requested by the broker The mortgage is underwritten then the valuation is instructed.
2. Memorandum Of Sale:
This document outlines the sale price, property address, any special conditions and the contact details for the seller, purchaser and both Solicitors. This is sent out to all parties from the selling agent.
3. Valuation / Survey
Before a mortgage lender will release any funds on a property they instruct a RICS Chartered Surveyor to carry out a mortgage valuation to ensure that they would be able to recover the cost of the property should your purchaser default on their mortgage.
4. Conveyancing
Your solicitor will send your Title Deeds along with all other paperwork relating to the sale to your buyer's Solicitor who will obtain the appropriate searches and raise any enquiries that they have relating to the content. Once all searches have been received and all enquiries satisfied they will prepare contracts for each party.
5. Exchange
Once all contracts in the chain have been signed and deposits received the Solicitors will 'Exchange Contracts', this is legal commitment from all parties and now sets in stone the agreed completion date.
6. Sale Complete
The sale will officially 'Complete' on the date agreed in the contracts, when all funds have landed with the seller's Solicitor.
Address: 4th Floor Centenary House, 1 Centenary Way, Trafford Park, Manchester M50 1RF
Company Registered Office address. The Counting House. 4a Moss Lane. Swinton. Manchester
M27 9SA
Company Registered in England and Wales: 11425949
Contact Form:
You voluntarily choose to provide personal details to us via this website.  Personal information will be treated as confidential by us and held in accordance with the Data Protection Act 2018.  You agree that such personal information may be used to provide you with the details of services and products in writing, by email or by telephone. By submitting this information you have given your agreement to receive contact from us to discuss your mortgage requirements
House in hands Image by Danilo Rizzuti at FreeDigitalPhotos.net
Couple taking keys Image by Ambro at FreeDigitalPhotos.net
Thumb up hand and tablet PC by natavut at FreeDigitalPhotos.net
Health insurance claim form image by phasinphoto at FreeDigitalPhotos.net
Home insurance icon Image by atibodyphoto at FreeDigitalPhotos.net